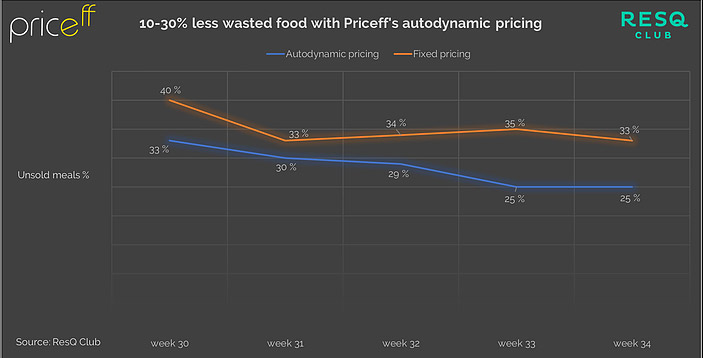 Hävikkiruokapalvelu ResQ Club partnerit hinnoittelivat autodynaamisesti ruoka-annoksia heinä-elokuussa 2018. Priceff Oy:n palvelun avulla ja hävikki väheni 10 – 30% verrattuna kiinteästi hinnoiteltuihin annoksiin. Hinnat muuttuivat kysynnän mukaan, kun Priceffin algoritmin laski jatkuvasti optimaalista hintaa.
Tulokset osoittavat, että hinnalla on väliä. Kaikki hyötyvät; kuluttajat saavat annokset edullisemmin, ravintolat poisheittämisen sijaan tuottoja, ja luontoon siirtyy vähemmän jätettä.
In English:
The loss of food declined 10% to 30 % as a result of autodynamic pricing
Leftover food app ResQ Club priced food portions autodynamically in July-August 2018 using Priceff's service. Food waste declined 10-30% compared to fixed pricing. Prices changed according to actual demand as Priceff contionously adjusted for the optimal price.
The results show that price matters — in this business as well. Everyone benefitted from better pricing; consumers got cheaper portions, restaurants got incomes instead waste, and the environmental burden was decreased.