As our business keeps growing, we are happy to announce a new face in our team!
Lari Metsälä, M.Ec (Marketing), M.Sc (Social Sciences of Sport) has recently graduated from Jyväskylä University School of Business and Economics. He also has educational background in sport sciences.Lari starts his Priceff career as a Project Manager & Analyst and is going to work with many aspects of the company, focusing mainly on analyzing and managing projects of his own.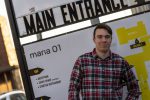 Lari made his marketing master's thesis in a collaboration with Priceff. He researched perceived fairness of dynamic pricing and its connection to customer satisfaction in our Kotipizza pricing pilot. "We were impressed on Lari's enthusiasm and expertise during the master's thesis project and we are glad that he is now part of our team" says Priceff CEO Tiina Laisi-Puheloinen.
Priceff warmly welcome Lari to join our shared journey of the digital transformation of autodynamic pricing in Europe.